Commercial Window Film Across the UK
Bow Window Films Ltd has over a decade of experience in the architectural window film industry, delivering work for commercial customers across the UK and beyond. We specialise in; Switchable Smart Film, Solar Control / UV Reducing Film, Energy Control Film, Safety Film, Privacy Film, Decorative Film, Manifestation, Vinyl and Window Graphics.

With many returning clients we pride ourselves on our customer service; we offer expert advice, free samples, free estimating and detailed responses to commercial tenders. All work is fully guaranteed and will pass any required quality or safety inspection.
With the ability to work on any client site our employees have CSCS cards. Bow Window Films Ltd is an SSIP member and is PQS H&S/ PAS91 Approved.
Please see some of our most popular films below, if you do not see a film that meets your requirements then please call us on 01246 903902 and we'll source the film to meet your requirements. 
Solar control Window Film
Mirrored when looking in but optically clear when looking out during daylight / twilight hours or if internal lights are not on. These films work through the differential in light levels so they can also be used internally

99% UV rejection and up to 93% glare reduction

Available in: Silver, Grey/Silver, Neutral Grey or Slate


Blockout 2-way films that appear mirrored from the outside but block out the view from the inside are available in Matt Silver or Silver
Provides a more neutral appearance than reflective window film, these are often used for architectural and design reasons.

99% UV rejection and up to 80% glare reduction


Available in: Bronze or Grey (same colour when viewed from the inside or outside)
For use where extreme UV light blocking is required, for example for people with UV sensitive skin conditions, in a museum, medical facility or manufacturing facilities for the photographic, pharmaceutical, scientific or electronics industries. The film can be applied to all sources of light within the room such as windows, fluorescent lighting and even lasers.

The film we supply and fit exceeds the standard museum test requirements for low UV transmission and colour distortion and passes the requirements of leading conservation experts who have carried out research on ultra-violet filters.


Available in: Amber or Clear
Keeps rooms cooler in summer and warmer in winter through increasing the efficiency of your glazing to reduce energy costs all year round

Reduces energy loss through glass up to 40%; can reduce the inside temperature by up to 5 °C in summer & retain 94% of radiative heat inside during winter.

Payback on your investment in as little as 3 years through reduced energy bills, tax liability and carbon footprint. Government and business organisations can use this film as part of seeking to comply with the Carbon Reduction Commitment scheme and The Carbon Trust policies.

Additional benefits, dependant upon the product chosen, are daytime one-way privacy, uniform outside appearance and 99% ultraviolet light (UV) filtering


Available in: Grey, Bronze, Silver, High-Mirror, Low-Mirror or Clear

 
Solar control film designed for use on polycarbonates, GRP and plastic substrates; such as conservatory roofs. This is manufactured with a special adhesive to counter the tendency for standard reflective films to bubble up if applied to polycarbonate instead of glass. 

99% UV rejection and up to 89% glare reduction


Available in: Silver

 
Used when inside access is not possible or on certain types of glass. These films have a weather-resistant construction with a strong waterproof adhesive and additional UV barriers to help protect the film from degrading.


Available for many of the above applications in: Reflective Silver, Reflective Grey/Silver, Low Mirror Bronze, Low Mirror Grey and Clear Heat Control
0% light transmission to provide total two-way privacy 24 hours a day. Can be installed internally or externally and applied for permanent or temporary use. 

Available in; White, White/Black 
Safety & Bomb Blast Window Films
Designed to make glass safer, both by strengthening it against breakage and helping hold dangerous shards of shattered glass together in situations where breakage does occur. 

Schools, hospitals, offices, workplaces and public buildings must comply with Regulation 14 of the Workplace (Health, Safety and Welfare) Regulations 1992 by upgrading glazing for safe breakage. Professionally installed window film is a straightforward retro-fit solution that meets the required safety standard. 


Safety films are available from 100 microns to 300 microns, as the films increase in microns (thickness) they offer increased protection. We have a large range of safety films that are clear, mirrored or frosted and can be applied externally or internally with or without a physical/ structural support around the frame to further increase the strength of the film. 
100 Micron: Tested and certified to EN 12600 Class 2B2, used by many organisations as a minimum specification for safety film. Often used in schools and offices to meet British Standards (EN 12600 has now replaced BS 6206).
175 or 200 Micron: EN 12600 Class 1B1. A multi-laminate bomb blast protection film widely used by many government agencies and commercial organisations to address the real corporate risk of bomb-blast, or industrial explosion at, or near, their premises. 200 Micron film may also be used with a physical attachment system to provide smash & grab protection, especially useful for a jewellers shop window.
300 Micron: Often used on ground floor windows and other high security areas of buildings considered to be at greater risk. Also provides adequate protection for smash & grab and intruder attacks on ground level windows. Often used as part of an anti-intruder scheme to protect against rioting etc
Translucent privacy screening films are used to give two-way privacy with an effect that looks like etched glass or sandblasted glass, both finishes still allow high levels of daylight through the window. The high levels of privacy make this product suitable for bathrooms, medical consultation rooms, offices and to comply with planning permission.

We can custom cut this film on a digital plotter to display your logo or unique design.

Available in; Frost Vinyl (most popular), Fine Acid Etch White, Fine Acid Etch Bronze, Fine Acid Etch Smoke, Dusted, Offshore Blue, Refreshing Mint, Sparkling Yellow, Romantic Rose, Luxurious Gold, Crystal White, Matt Silver, Dusted Crystal White, Frosted Crystal Gold, Frosted Crystal Rose, Frosted Crystal Blue, Frosted Crystal Mint, Frosted Crystal White, Medium Sandblast, Stipolite Effect, Rice Paper Effect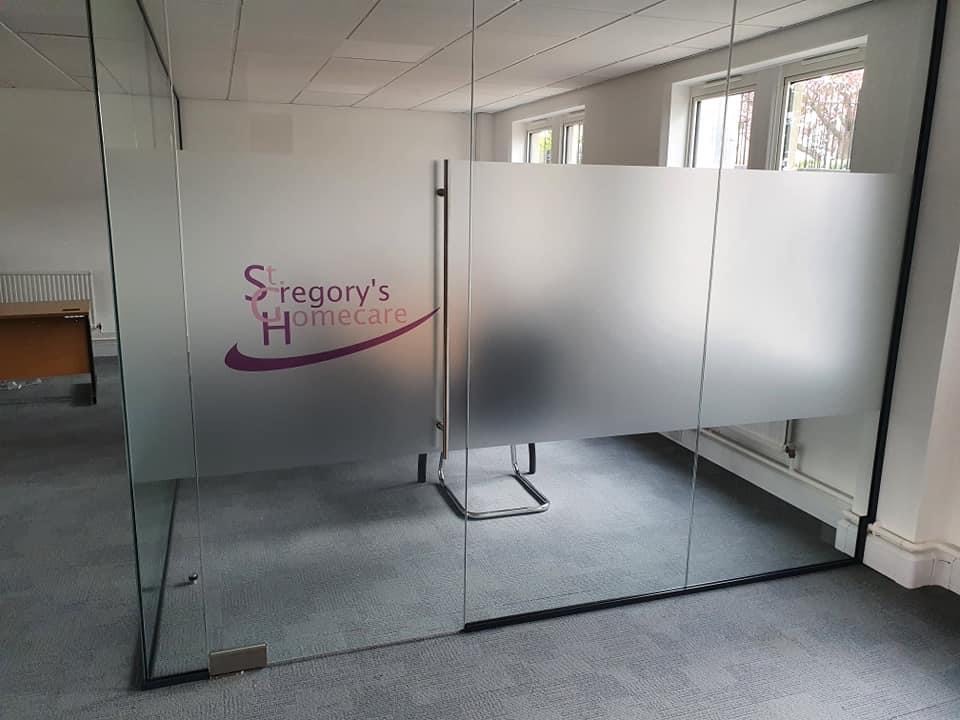 Frosted Manifestation With Custom Logo
Dual purpose with Solar Control, please see that description.
Frosted film with clear detailing is available in many decorative finishes such as; vertical/horizontal stripes, a repeated square pattern or a repeated dot pattern.
Custom printed film is also available to bring any design you can imagine to life! This can be laser cut from frosted film, coloured film, solid vinyl or printed in full colour.
Many other styles of patterned film are also available, such as reeded film, this product is proving very popular, we have been working with a large number of interior designers and clients that love the retro clear and reeded look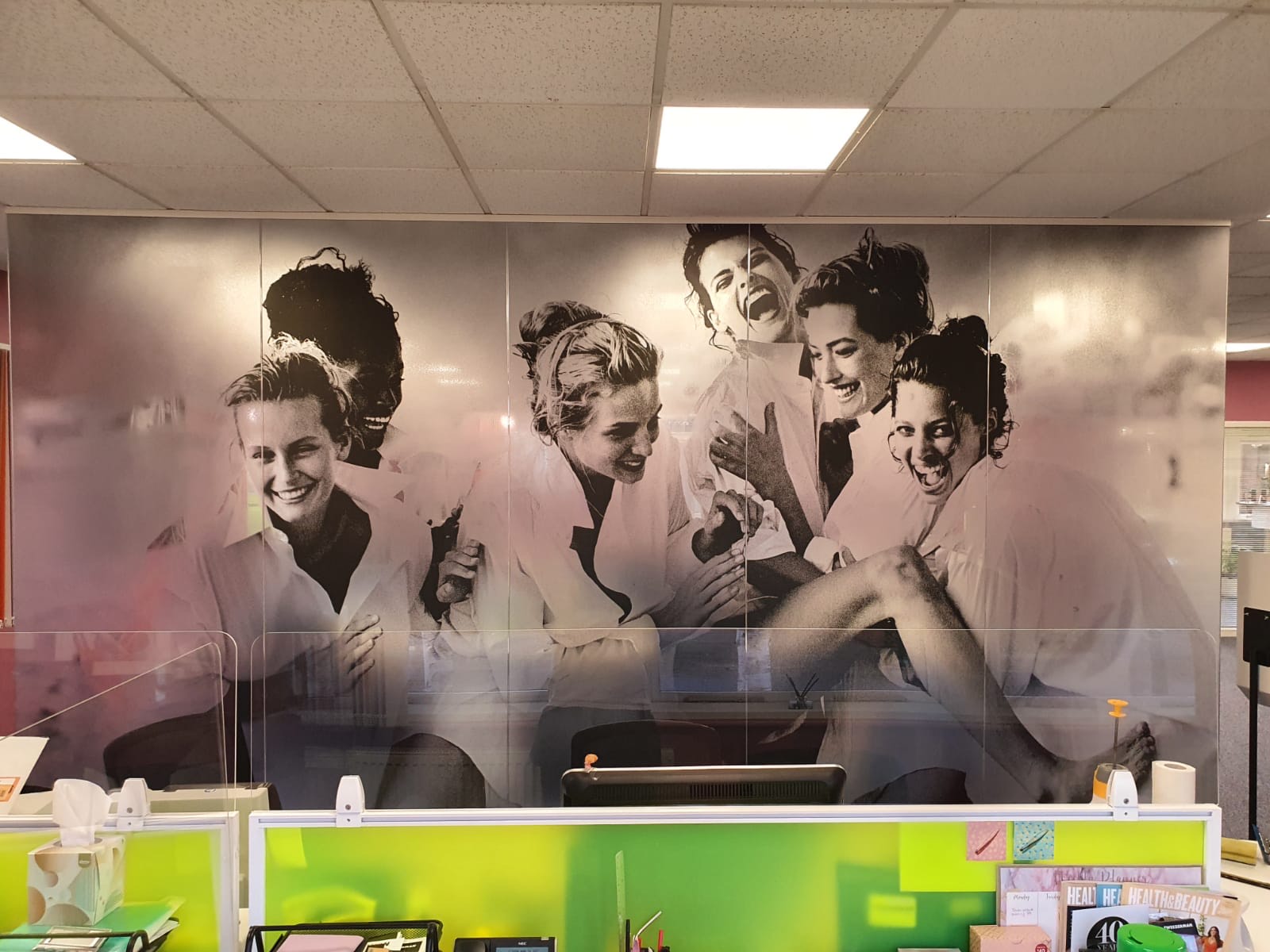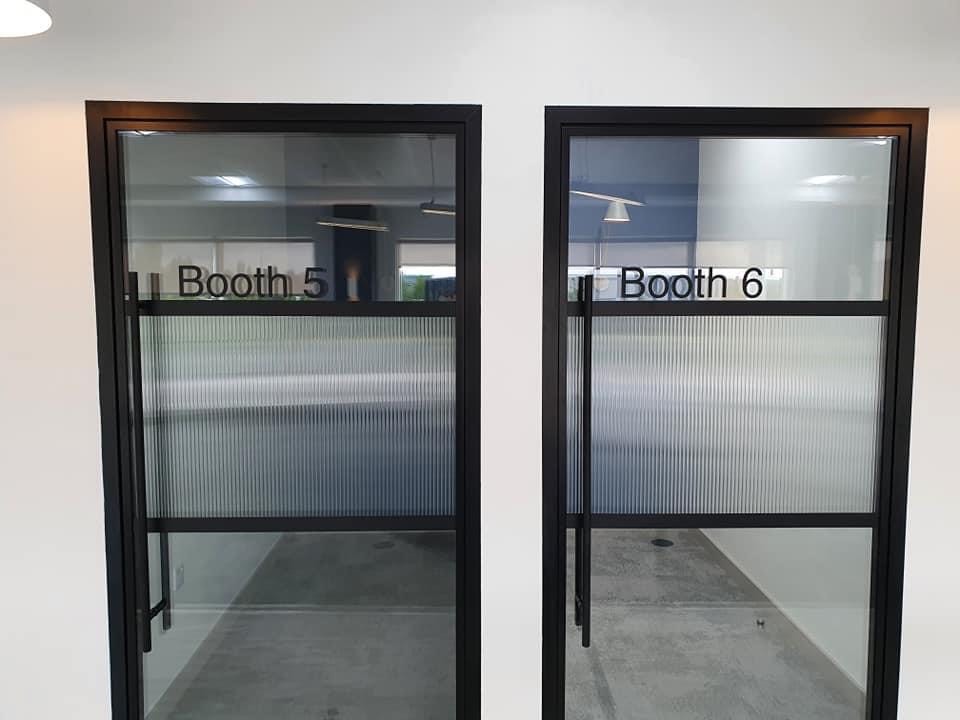 Reeded Film With Black Band
Vibrant films to allow designers to tint glass a wide variety of colours whilst retaining an optically clear level of transparency or a one-way mirror effect (dependant upon colours chosen)

Available in; Light Blue, Blue, Dark Blue, Blue/Silver, Lilac, Purple, Green, Light Green, Pink, Light Pink, Red, Red Violet, Light Red, Orange, Yellow, Gold/Silver, Grey, Slate or Black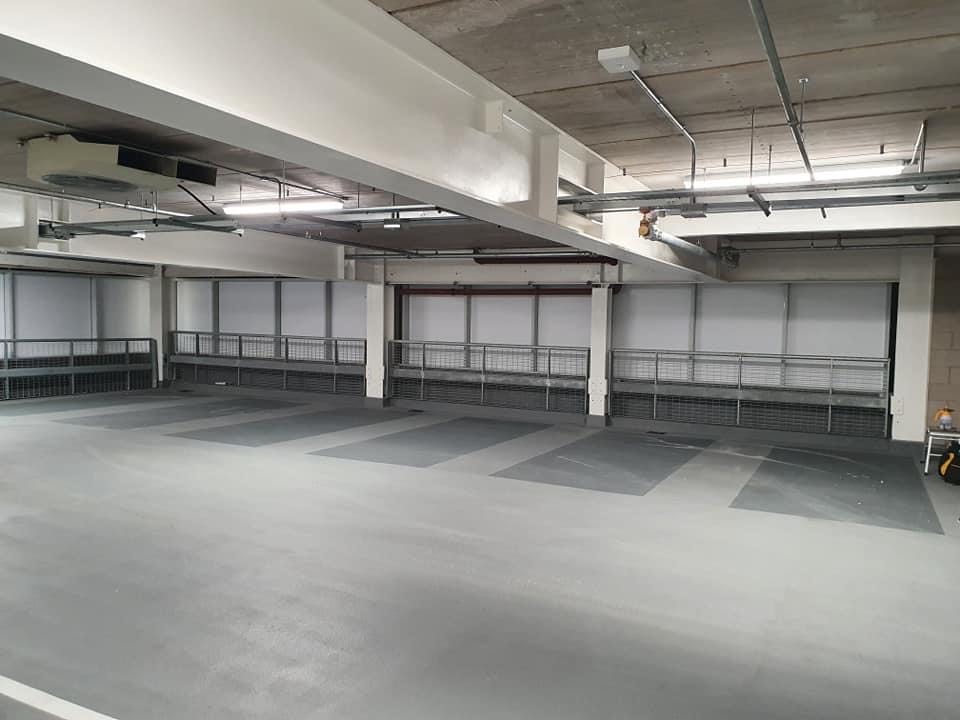 Solid coloured vinyl that can be applied to the interior or exterior of glazing to provide total privacy. We can custom cut this film on a digital plotter to display your logo or unique design.
Available in; any colour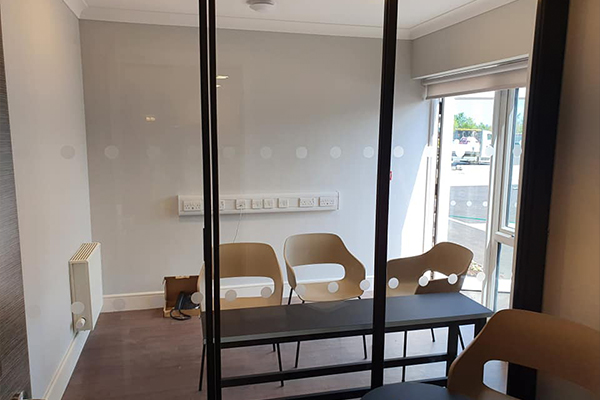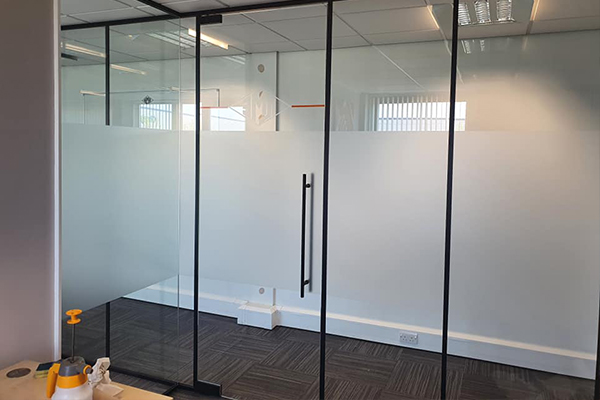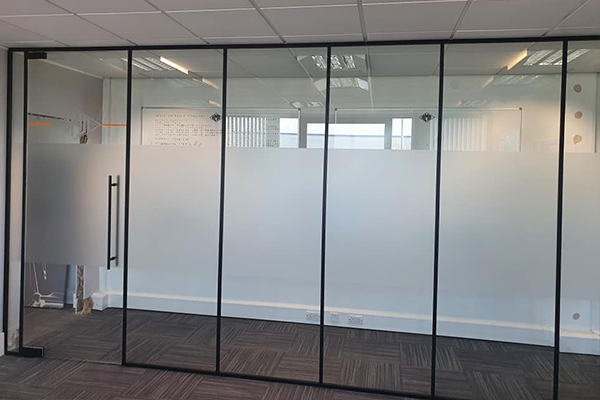 Manifestation
Manifestation must be installed in line with Building Regulations (Part M, requirements M1 & M2) to meet the Health, Safety & Welfare Regulations 1992, Reg 14 which states that every transparent or translucent surface must have frequent markings to make it apparent. 

Available in; Standard dots or squares. Or custom designed manifestation such as laser printed shapes, logos or words. 
Whether you are a customer, project manager, commercial manager, interior designer or architect. We have services to meet your needs so please get in touch to discuss your requirements with us today.
We operate out of Chesterfield, Derbyshire and cover the whole of the UK. For more details and information about window film installed for your business ring
01246 903902
.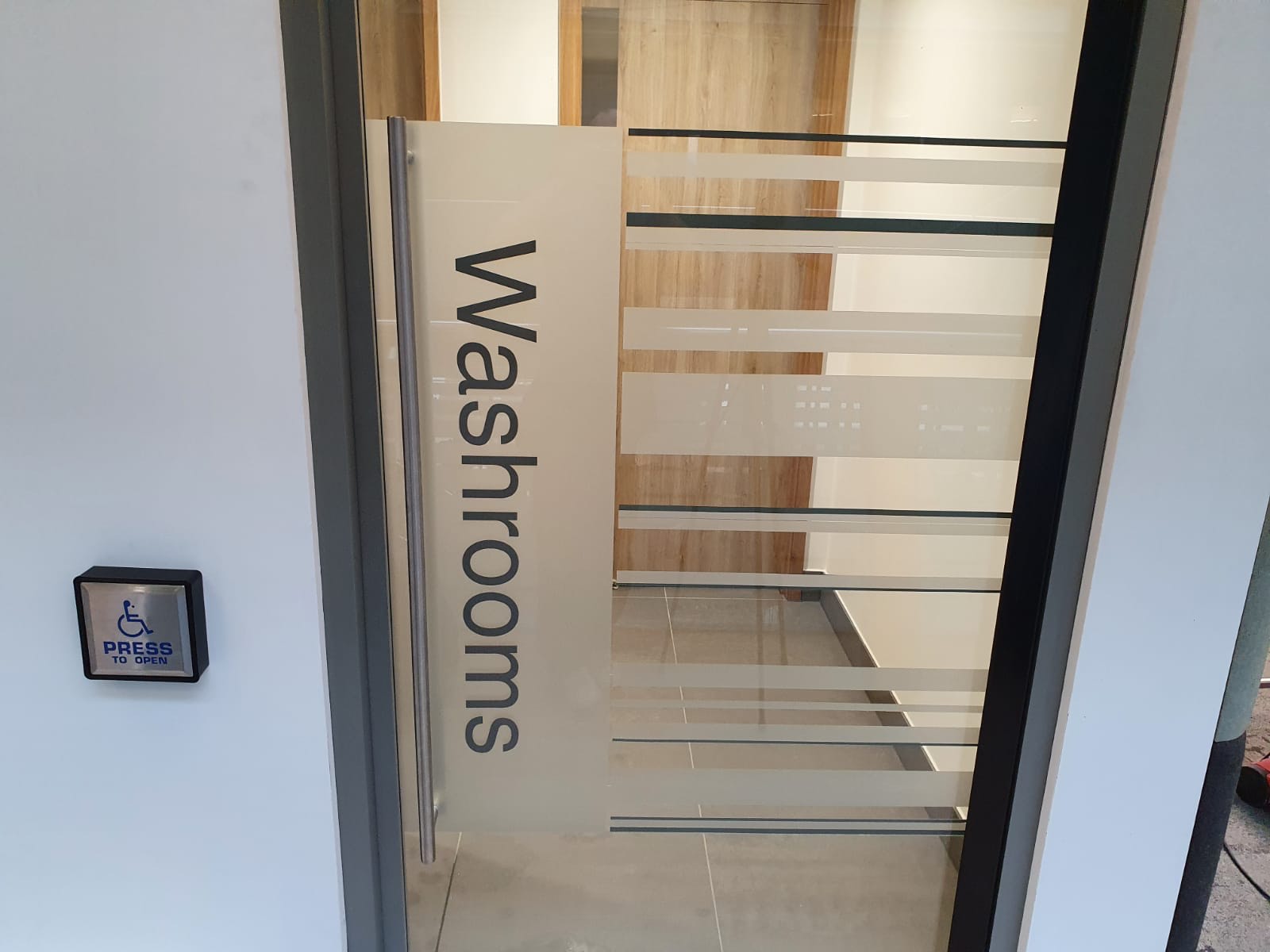 Get in touch with us
today!
Commercial Window Film Installation Across The UK
Commercial Window Film Installation Across The UK